Building material prices to remain high until at least the middle of next year
Building material prices have raised over the last six months, along with many other products. The cost of raw materials such as timber, plastics and steel have particularly surged. Supply chain disruptions, due to the Covid-crisis, decreased the supply of building materials just as output remained resilient during the pandemic. This has resulted in shortages and price hikes.
Raw material prices for metals and timber have come down from recent peaks. However, this is not yet reflected in the producer prices because it takes some time before these make their way through the supply chain. Besides that, the data lags a bit, as July and August producer prices are not published until now and are probably already showing some flattening.
Contractors' margins are diminishing
The building materials' price hikes have put building companies' profit margins under pressure. This can easily lead to loss-making projects as profit margins are thin in the construction sector, generally about 2 to 4%. The development of output prices of construction projects and input prices of building materials are in general closely related. However, from 2018 until the end of 2020, contractors' output prices increased faster than the input prices which could have resulted in higher profits. Yet, due to the higher building material costs input prices are catching up quickly and saw their biggest increase in the first quarter of 2021 since 2004 and this puts pressure on those margins.
A large number of suppliers are still planning price increases
Although there have been some recent price decreases of raw materials such as timber, particularly in the US, and steel, European building material companies are still dealing with higher costs. As a result, many European manufactures are expecting to increase their output prices even more. In July, according to a European Commission survey, some 40% of concrete, cement and bricks' suppliers said they expected to raise their prices even further. For timber and steel, the percentage of companies that expect to raise the sale price is even higher. Nevertheless, it looks like the peak is over for these products but shortages of labour and the uncertain development of the Delta variant could also delay stabilising or downward price adjustments.
Inventories have to improve first
Before suppliers even think about lowering sales prices, they have to see an improvement in their inventories. That's because a rise in their stock increases the competition and puts downward pressure on prices. For example, at the beginning of the financial crisis, building material suppliers started to see an increase in their inventories from April 2007 but it took until August 2008 before an increasing number of companies were indicating that they planned to decrease those sale prices.
Prices for timber and steel are more vulnerable than those of concrete, cement and bricks
For steel and timber, there is a global market with a huge number of buyers and sellers. This makes these markets competitive and transparent and this results in a more direct pass-through in the value chain of price changes of raw materials. Conversely, the markets for concrete, cement and bricks are more local. This is due to the characteristics of these materials. They are large and heavy and therefore difficult and costly to transport. This makes these markets less competitive. The pass-through of procurement price fluctuations is therefore slower. This could also explain why prices of steel and timber have surged more than others, as you can see in our first chart.
Cost of cement, concrete and bricks probably won't fall before Q2 2022
Assessment of stocks of finished products and expected development of prices by building material suppliers (eg. cement, concrete & bricks), European Union (Balance on positive and negative answers in %)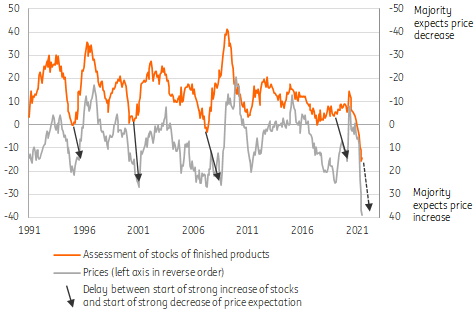 High prices for concrete and cement until at least mid-2022
Correlation analysis shows that sales prices of building materials such as concrete, bricks and cement react with a delay of approximately six to nine months to changes in the assessment of their inventories. However, at the moment we don't see any improvement in inventories for these building materials. In fact, quite the opposite. A record number of building material suppliers reported in July that they value their inventory of finished products as (too) low.
why construction materials are very expensive
The San Francisco-based startup Assembo is developing SolarLeaf, a solar-powered 3D printer that can build eco-friendly housing by giving unlimited access to homeowners and non-profit organizations. The machine works on-site, up to 50 meters away from the nearest grid connection, eliminating the need for transporting building materials in crude form. Imagine how much more Carbon dioxide would be eliminated if the construction industry switched to renewable energy sources.
We spend money on high construction materials because we want our houses to be comfortable and reliable. We do not want them to crumble when heavy storms happen or when there is an earthquake in certain regions of our planet.
Many countries are cropping up with surplus of solar panels and wind turbines so it does not make sense for us humans that depend on these expensive physical
—
They have many factors to do with why they are so expensive. Raw material costs are on the rise, due to the shortage of commodities. There is a huge demand for construction suppliers which leads to much higher prices.
Introduction: Materials cost a lot because of multiple reasons. As many companies start including sustainability in their buildings, some raw materials become scarce, which leads to higher demand for them as well as expensive prices. The reason for high price need not just be that price goes up; the supply and all other market factors can lead to an increase in price too
—
building a home comprised of cheap (or even adequate) materials
It is true that building materials have become more expensive. Often these are not just due to the suppliers but also because we do not prioritize supporting modern ways of construction. A home built with steel beams will be quicker and easier which means it would need less pricey materials.https://gotinoconstruction.com/construction-materials-in-uganda/
+link: Bureau of Labor Statistics article on construction costs and employment statistics